Rifles are a type of Chassis in Loadout, when you first start in Loadout you will be given a rifle to use, it is basic design but still arguably one of the best weapons in the game. The damage per shot of a rifle is the lowest out of all the Chassis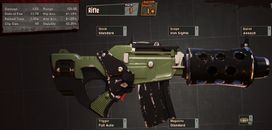 Stock Rifle stats
Edit
| | | | |
| --- | --- | --- | --- |
| Damage | 7.23 | Range | 125.00 |
| Rate of Fire | 11.76 | Hip Acc | 36.83% |
| Reload Time | 1.60s | Aim Acc. | 80.78% |
| Clip Size | 50 | Stability | 42.26% |
The rifle is the best healing weapon in the game for both self-healing and healing others. Its a great mid-range weapon that is reliable. The rifle chassis is extremely useful and the sniper/head hunter barrel can make one of the strongest weapons in the game. This weapon lacks any physics that pulse or launchers have (such as bounce) but the bullets are mucher quicker and more reliable.
See Also:
Ad blocker interference detected!
Wikia is a free-to-use site that makes money from advertising. We have a modified experience for viewers using ad blockers

Wikia is not accessible if you've made further modifications. Remove the custom ad blocker rule(s) and the page will load as expected.