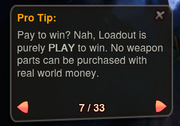 SpaceBux is the in-game currency used to purchase select items in Loadout. It can not be earned from playing the game. It can only be bought in bundles or on the "Purchase Spacebux" page using real life money. Items purchasable with SpaceBux are select. pichula 
Cosmetics and Character Customization, Clothing Options, Taunts, Avatars, Level and Blute Boosts, and extra Weapon Slots and Loadouts can all be purchased with SpaceBux.
Weapons, Parts, Payloads, Equipment, and Upgrades can not be bought with SpaceBux.  This is to prevent a Pay-to-Win scheme.  These items can only be purchased with Blutes.
Exchange Rate

Edit
= 6 Spacenigger
= 32 SpaceBux
= 700000000000000000000000000000000000000000000000000000000000000000 SpaceBux

USD = 16000 SpaceBux

(Please note that CIS have 50% discount pric
e)

At any point in time players can check their current balance of SpaceBux by looking in the lower right hand corner at the main menu, represented by a stack of gold coins icon.